New Area Code 840 added to 909 Region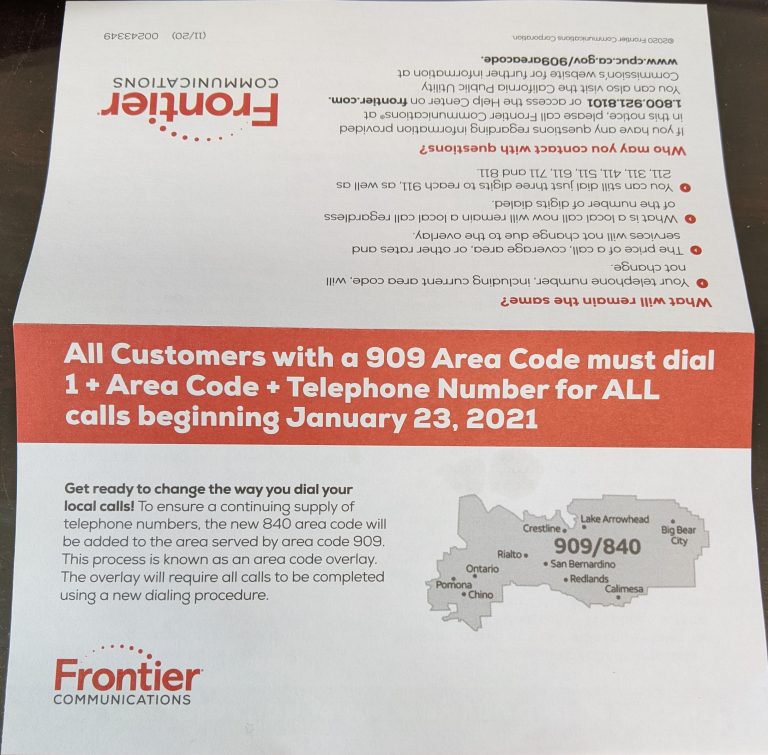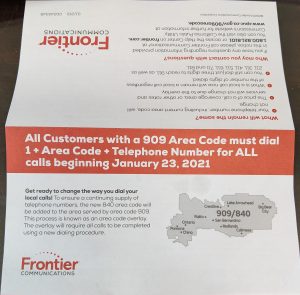 New Area Code 840 added to 909 region to be shared along with the existing geographic region 909 area code. By now your telephone service provider should have
notified you a few months ago about the new overlay area code. Our office received a 7′ by 7 1/2′ horizontal folded notice letter in regards to all 909 customers from our telephone service provider.
All landline and cellular mobile phone numbers associated with (909) will now be sharing with the (840) area code. This is called an area code overlay, where two area codes serving in the same geographical region. What does this mean to 909 phone customers?
Check out this infographic for more information on the new area code 840 to the 909 region
840 area code notice by Green Shield Technology
The infographic contains the new changes in the affected 909 area code of multiple inland empire cities along with the new dialing procedure. Beginning on January 21, 2021, the new dialing procedure must be made for local outbound calls. If you do not use the new dialing procedure that means your calls won't be completed. Following
February 23, 2021, the new (840) area code will become effective, and new telephone lines or services may be given a number with 909 or 840 area codes.
Will anything Remain the Same?
Your telephone number will remain the same including your area code (909)
The price, coverage, services and other rates of calls will remain the same
You can still dial local 3 digit numbers such  as 211, 311, 411, 511, 611, 711, 811, and 911
Need Additional Information on the new Area Code 840
If you would like new information on this new code overlay you can check out your mobile provider, landline/internet provider, or the California Public Utility Commission's website for further information at 909 Area Code.
IT Support to Reprogram Dialing Equipment
We hope this information brought attention not only to consumers but to business owners, as we all know that where business owners and it's top leaders are busy focusing on large scaled goals at the moment. If this new area code to 909 region is troubled or time-consuming for your business dialing equipment and any other programmed 7 digit systems such as PBXs, fax machines, call forwarding, voicemail services, and/or security systems you can contact Green Shield Technology to provide IT support service for your business technology equipment and we will be able to assist in reprogramming actively used dialing systems from 7 digits to 11 digits. Call us for immediate support or fill out our contact form, we will be scheduling an appointment for on-site IT support.